Spelling Dictionary Out Now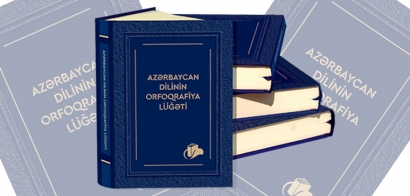 The Azerbaijan State Translation Centre (AzSTC) is pleased to announce the publication of its Spelling Dictionary of the Azerbaijani Language, which is part of an initiative to protect the purity of the state language and improve its use, and to centralize translation work. The dictionary is based on a principle of properly selecting the large arsenal of both old and new words and terms used in various fields, as well as in accordance with the "Spelling Norms of the Azerbaijani Language" approved by Resolution No. 174 of the Cabinet of Ministers of the Republic of Azerbaijan, dated 16 April 2019.
The chief points of note as regards the new edition are a single form of words and terminology, given in two or even three variations in previous dictionaries, the dictionary's inclusion of archaic words that have long since been out of use, but retained their value and significance in different branches of activity, recovery and interpretation of cognate words in order to better understand and use them, as well as the removal of a total of 54,000 word formations, archaic or dialectical words, and Arabic and Persian words that are no longer in everyday use and the inclusion of more than 8,000 native Azerbaijani words and discipline-specific terminology used in science, politics, technology and other specialized fields and never included in a spelling dictionary.
The compiler and author to the foreword is AzTC's Chair, People's Writer Afag Masud. The editorial board includes Academician Nizami Jafarov, Prof. Vilayat Guliyev, Prof. Gulu Maharramli, Prof. Chahangir Mammadli, Prof. Jalil Nagıyev, Prof. Rustam Kamal, and Assistant Prof. İsmayıl Mammadov. The editor is Latafat Samadova.
The dictionary has been published by the "Sharg-Garb" Publishing House.