Good day soldier...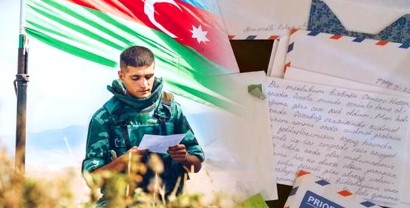 Good day soldier...
I am writing this letter to you as if from the depths of the submerged silence of the dawn. I want you to know that from the day you went to fight for your native land, every dawn here awaits with the sounds of shells, missile attacks, bloody explosions, dull silence...
Everything - nights, days, thoughts, feelings, relationships here - has changed since the day you went to war... At night despite everything around seems to be in a state of restful sleep, in fact there is neither peace nor dream. Every home, everyone walks after you along slippery paths, rocks along which you climb step by step, holding bullets and fragments of shells pointed at you with their chest and palms in the air...
Where are you now, soldier? Can you hear how we crawl as a shadow step by step behind you? Can you feel how your compatriots who were awoken from their warm beds and subjected to cruel tortures on a snowy and frosty February night, and the grey-eyed, beautiful Khojaly women who fled barefoot into the snow-covered forests, fleeing from the Armenian tyranny, as victory flags together with us, shoulder to shoulder walk alongside you? I know that your body that turned into steel because of the pain of our martyrs, our innocent victims don't feel the bullet wounds in your body... Even if your wounded, tired body falls on the ground, the sacred tricolour flag that you carry in your heart will not fall! You, my brave soldier, know that you will hold this flag upright until your last breath, until the last inch of the lands that you liberate!
There is such a saying: "If there is one who dies for the land, it is a motherland.". But the Motherland doesn't mean only the land, nature, forests, mountains! Motherland begins, firstly, with the man who dies for it! You are the Motherland, soldier! It is a gallant soldier who makes native motherland - Motherland!
Be safe, soldier! Long live the brave Motherland!
Afag Masud